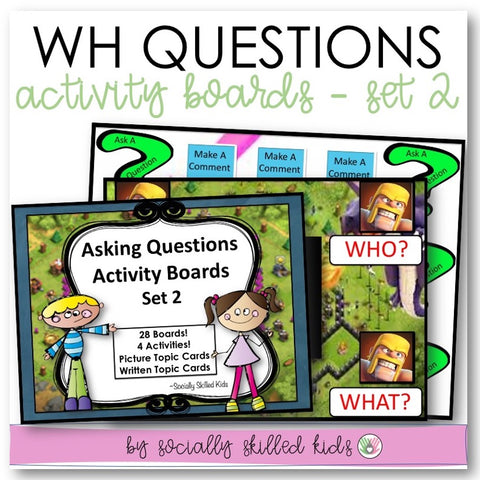 "WH" Question Activity Boards | Set 2
You can help your students engage in more dynamic conversations by improving their ability to ask meaningful questions.
Questions help people to learn more about each other and to show others that we are interested in them.
This activity has 4 different choices/levels, so you can move on as your students improve and/or use the boards of your choice with a wide variety of learners.
The high interest background helps get students excited to engage in this activity.
Using prompt cards, students attempt to ask each other questions about the topic, checking off the appropriate "WH" question box as they do. When done, students can see how many and which questions, they asked. 


Included Please Find:  38 Pages
Board Style 1: Six boards with question starters; Where, When, Who, What 

Board Style 2: Six boards with more difficult question starters; Which, Why, How, Do/Did

Board Style 3: Six boards with all question starters; Where, When, Who, What, Which, Why, How, Do/Did combined on one board

Board Style 4: Six boards with boxes to mark off when a question was asked and when a comment was stated. Students must decide which question starter to use. 

4 No Background pages, 1 page per activity. Have students draw their own high interest background!
---
We Also Recommend